Savor Spanish sensations at Sabor Bar de Vinos
Indulge your senses at Cubao's newest venue for fine wines, superb sangrias, and appetizing tapas Sabor: a word derived from the Latin sapor, which means flavor. Interestingly enough, the word "savor" also derives from the same Latin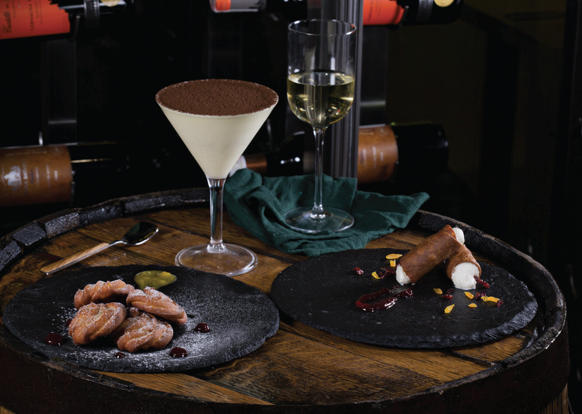 Indulge your senses at Cubao's newest venue for fine wines, superb sangrias, and appetizing tapas
Sabor: a word derived from the Latin sapor, which means flavor.
Interestingly enough, the word "savor" also derives from the same Latin root. While tightly intertwined, there is a distinct nuance between the two words. In dining, for instance, flavor involves a sensory appreciation of taste. But savor refers to the more sensual aspect – a lingering, gratifying enjoyment of that which you taste.
That little word lesson comes to life, deliciously, at Novotel Manila Araneta Center's newest offering, Sabor Bar de Vinos, which invites you to taste and enjoy the wine-and-tapas lifestyle at its finest.
Kick back, relax, and unWINEd
Situated on the ground level of the Novotel Manila, in the heart of vibrant Araneta Center, Sabor offers a relaxing respite from the hustle-and-bustle right outside the hotel's doors. From Tuesday to Sunday, 3 p.m. to 3 a.m., guests can come in to de-stress over a glass or three of a wine of their choice.
Sabor's warm and welcoming interiors, flanked by elements of glass-and-steel, with rustic wooden touches, make it easy to let go of your cares – if only for a few hours. The dining area is intimate, allowing for warm conversations filled with hearty laughter. Just beyond the cozy space, a passageway leads to an indoor garden and more seating.
While it is ideal to enjoy the afternoon or evening with no other agenda than to take in all that makes Sabor special, if you must work, what better way to do so than with a glass of wine in hand? "Plug-and-Pour" all you want on bar stools situated by picture windows with a view of Cubao's dynamic city streets.
Winning wines
Sabor boasts an impressive variety of wines, from a wide range of vintage and value, including premium wines like Clarendelle by Haut Brion Bordeaux, Anna Codorniu Rosé, and Waterfalls Road Eddy Sauvignon blanc.
The sangria selection does not disappoint, either, with three variants to choose from. Fortress Sangria is bold and intense in flavor, showcasing a mix of red wine, brandy, orange juice, spiced syrup, lime juice and lemonade. For something light and refreshing, Sangria Blanco hits the spot, with its delicate fusion of Sauvignon Blanc, vodka, lychee juice, apple juice, lime juice, and basil leaves. The Sangria de Rosa, on the other hand, is a zesty concoction of rose wine, tequila, guava purée, strawberry syrup, pineapple juice, lime juice, and mint leaves. The tapas bar also offers a DIY sangria station, which is as delightful as it is delicious.
Perfect pairings
Of course, the best way to enjoy a nice glass of vino is with a plate of tapas – and Sabor's menu is loaded with a hearty selection of small plates. Must-try tapas are the Sautéed Chorizo in Red Wine (fine Spanish meat sausages in red wine and sherry vinegar, topped with chopped parsley, smoked paprika and red onion, served with rosemary focaccia), Galician-Style Chicken Empanada (a savory pie pocket stuffed with marinated chicken, Spanish paprika, roasted cumin, olives, and peppers), and the Mushroom Croquettes (porcini, button, and portobello mushrooms with creamy blue cheese dip topped with caramelized walnuts). Indulge in dessert tapas to satiate the palate, like the Cannoli Venetia (crispy pastry shells stuffed with creamy ricotta) and the Tiramisu, the Classic Way (layers of Amaretto-flavored mascarpone and lady fingers dipped in coffee).
Experience the taste and savor the flavor, con mucho gusto, at Sabor Bar de Vinos.
For inquiries and reservations, call (02) 990 7888 or email H7090@accor.com.
By ANGIE DUARTE
Photos courtesy of SABOR BAR DE VINOS