CATANDUANES: An Easy Pursuit of Happiness
When I used to get asked if I've ever been to Catanduanes, the default answer was in the affirmative because some seven years ago, I was able to enjoy a quick surf sesh, sample the
When I used to get asked if I've ever been to Catanduanes, the default answer was in the affirmative because some seven years ago, I was able to enjoy a quick surf sesh, sample the activities of an established resort, and check out the energy of a local festival.
But a fairly recent visit this year to the island province in the Bicol region showed me that – as with most things in life – I knew squat.
Located in the in the south easternmost part of Luzon, Catanduanes was poetically dubbed the "Land of the Howling Winds," owing to being exposed to the elements frequently brought by the Pacific. But to common folk (thanks to local weather reports), the island province was mainly a reference point to signal that a storm had entered the country.
With the growing tourism scene in the country, however, coupled with people's collective thirst for travel, Catanduanes recently rebranded to the laconic and promising "Happy Island." It's a bold claim for an understated province in a country made up of over 7,000 islands.
It's also, as we found, not kidding.
It certainly helped that the weather conspired with our weeklong discovery of Catanduanes to show off its ostentatious blend of diverse topography and soothing hues. As we skipped around the province in an outrigger boat, Happy Island proudly displayed its peppering of rock formations, and verdant promontories, that, from the sea, seemed to always open up to pleasant discoveries—each distinct, and with its own allure.
Natural commingling
Such was the case in the northern tip of the island, in the town of Pandan, where a short boat ride off the beach took us to Cagnipa Rolling Hills. It was as its name suggested – and then some. Lush greens spread across gently rolling hills, as the backdrop of white sand lined coves, and the sea and the sky formed a gradient that's equal parts stunning and meditative.
It's a perfect canvas for photographers of all devices—from phone cameras to SLRs to drone —Instagrammable from virtually any angle, and gorgeous from every vantage.
Cagnipa also keeps a pleasant surprise in its holster with Tuwad-Tuwadan Lagoon. A short walk down manmade stairs take you to a glistening blue rock pool that serves as a welcome respite from the sun, and an aqueous hangout for the squad. In tandem, Cagnipa and Tuwad-Tuwadan embody the commingling of natural elements that makes Catanduanes such a beautifully unique destination.
EXPAT TIPS
One takeoff point for Cagnipa Rolling Hills is at Carangyan Beach Resort, where you can arrange for boat transfers. Rooms at the quaint resort start at PhP1,500.
As with most of the hilly destinations in Catanduanes, it's best that you schedule your visit early in the morning or late in the afternoon to avoid getting toasted.
Dramatic displays
Less than 20 minutes away from Puraran Beach is an increasingly popular attraction – one that offers arguably one of the best panoramas on the island—Binurong Point. Whilst I personally preferred the gentler slopes of Cagnipa and its accessible lagoon – there's a bit more drama and diversity to be framed in Binurong's lay of the land. Getting to it also requires about a 20-minute hike, an added bonus for enthusiasts of the outdoors.
If at this point your thirst for adventure still persists, you can head to the town of Bato, a little over an hour away from Binurong Point, and explore the Carorian Islets. The islet hopping tour takes you to another display of Catanduanes' seaside rock formations, with the most imposing being Poseidon's Rock – an edifice sculpted by the elements into what looks like a mighty wave. There are also a couple of rock pools by the distinct formation, which always make for fun dips.
They say happiness is relative to one's state of mind – Catanduanes' gamut of natural wonders makes that state within everyone's reach.
EXPAT TIPS
Pack ample amounts of water when you trek up to Binurong Point (especially when the sun's quite unforgiving), and unless you're aiming for that burnt look, an umbrella would be a wise idea.
Unlike most provinces, there are no habal-habals (passenger motorcycles) in Catanduanes. Your best options to get around would be to hire a private van (Lucky Hotel should be able to help you with that), or get in touch with accredited tour operators.
Island Escape Travel & Tours
(0949) 462-2641
Katandungan Travel & Tours
(0995) 883-2865
Both tour operators are accredited by the Department of Tourism and offer various tour packages around Catanduanes and the neighboring Caramoan Islands.
Fine slices
One town south of Pandan is where you can get your sandy fix at one of Catanduanes' most pristine beaches. About an hour boat ride off of Caramoran, untouched slices of fine white sands serve as the reward at the Palumbanes group of islands.
One of the islands, Bitaog, has drawn lazy comparisons to Boracay (at least when that used to be a good thing) – but apart from both being white beaches, it's really not fair to either. On the random weekday that we visited, it was akin to booking the entire beach stretch for ourselves. That hasn't been the case in Boracay for decades. Beach bums would consider it paradise, ice-cold libation and good company in tow.
You can't talk about Catanduanes' beaches without giving a shout-out to its most famous one—Puraran Beach. The surfing community has long known about the southeastern Catanduanes town's "Majestics" – powerful, right-handers named by a Hawaiian photographer back in the 1980s. But with its wide shore and laidback vibe, surfing need not be in the itinerary for you to enjoy Puraran Beach. All you need is a few good friends, a steady stream of cold beers, good convos, and you're all set to steal some happy hours.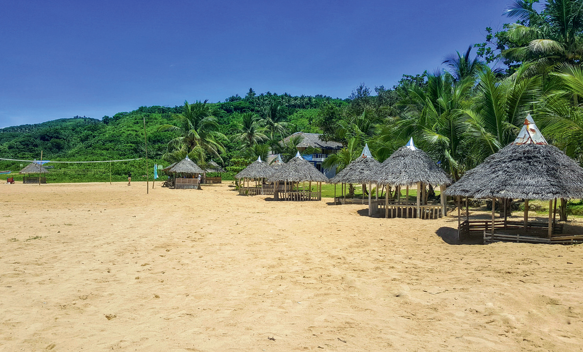 EXPAT TIPS
While the standard fare that might be offered to you is a Palumbanes island hopping tour, you might be best served asking to go straight to Bitaog. Its clear waters and fine sand make for the ideal lazy day by the beach. It also has a few huts absent from the other islands, which become crucial elements when the sun's blazing.
Pack a picnic lunch and a cooler of drinks to make the most of the beautiful slice of paradise.
If you're into local festivals, Catanduanes' Abaca Festival is held every third week of May. The month-long celebration is peppered with various events from the customary street dancing and parades, to concerts and other cultural displays.
Here's a short vid on our recent Catanduanes experience:
For a more comprehensive listing of transportation options (including fares), visit Travel Up.
By TIMOTHY JAY IBAY